Office cleaning in Bangkok
How clean your office and work space is a good reflection of who you are as a professional and how credible your business is. Office cleaning in Bangkok is a huge business. With so many big businesses and international headquarters operating in Bangkok, there is also a huge demand for commercial and office cleaning.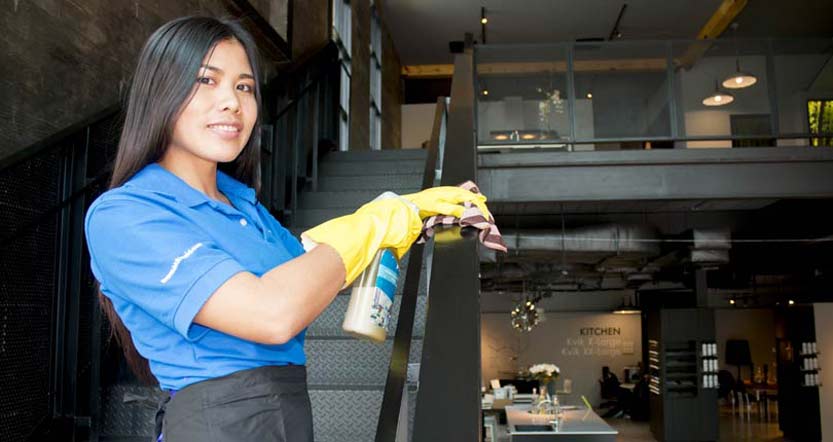 It does not matter how qualified you are or how good at your job, the space around you is also a good indicator of what you are like professionally. Every time a client or visitor steps through your doors, they are looking. While they may not automatically be looking for how clean your office space is, they will notice dirt and disarray. This sends out the wrong message. It sends out the message that you are disorganized, messy, careless, and unprofessional. It could just take one look to decide that your potential client does not want to do business with you, all because of the area that you work in.
A tidy office and working space means you are organised, diligent, pay attention to detail and have pride in yourself and your work. Why would you want your clients and colleagues to think otherwise of you?
But in reality, life in a Bangkok office is hectic. There are numerous phone calls to be made, emails to be sent, meetings to attend amongst other things. No one has time to clean their office. Superficial surface cleaning does not count! This is why you need help from the professional Bangkok office cleaners from Millennium Maids Service (MMS).
 
It's the Law
Owning a commercial business comes with restrictions. These days health and safety is a big thing no matter where you are in the world. It is the law to operate and work in a clean and sanitary working environment. If you or your company are found to be flouting these rules in any ways, there are consequences. The worst case scenario is that your commercial premises could be shut down until the right action is taken.
Why would you even take the risk when there office cleaning services in Bangkok that can do the job for you? Make your workplace a healthy and safe workplace for your employees and your clients by hiring MMS to take care of your commercial cleaning in Bangkok and never worry about any health and safety inspections again.

A clean office is a happy Office
Whether you are in marketing or finance, it does not really matter, a clean office space is a happy office space. You will find you are more productive, motivated and organised when your working environment is clean and tidy. Make your office building a happy one by hiring some of the best Bangkok's office cleaners in the area and reap the rewards later.
At MMS, we provide the following commercial cleaning services in Bangkok:
A tailor-made office cleaning service in Bangkok – you pay for what you need!
A variety of specialist office cleaning services.
A team of professional Bangkok office cleaners, who have specialised in commercial cleaning and have undergone a series of security and background checks.
In-hour and out-of-hour commercial cleaning servicing in Bangkok.
A well-managed cleaning team that is regularly monitored.
A safe, healthy and clean working environment for you and your employees.
Make sure you make your business a real success with a clean and healthy office environment for you, your employees and clients. We are here to take away the burden of office cleaning in Bangkok. Contact us now for your free quote and never look back!